La nueva pantalla de Samsung transforma el concepto existente de LED. La división Visual Display Business de Samsung presenta The Wall All-in-One (IAB Series), una solución innovadora de nueva generación para empresas que transforma el concepto existente de LED y va más allá de todo lo que existe actualmente en el mercado. Además, su instalación es cómoda y rápida.
La innovación no descansa
The Wall All-in-One se caracteriza por su instalación cómoda y diseño sin marco con 49 milímetros de grosor y 59 milímetros (si se mide desde la pared).
Para Samsung, la innovación no descansa y en la búsqueda incesante para crear experiencias inigualables, la pantalla The Wall All-in-One (IAB) aporta novedades tanto en su instalación como en la experiencia de visualización. Disponible en 3 versiones diferentes, 4K de 146", 2K de 146" y 2K de 110", todas ellas cuentan con 20 bits y aspecto de 16:9.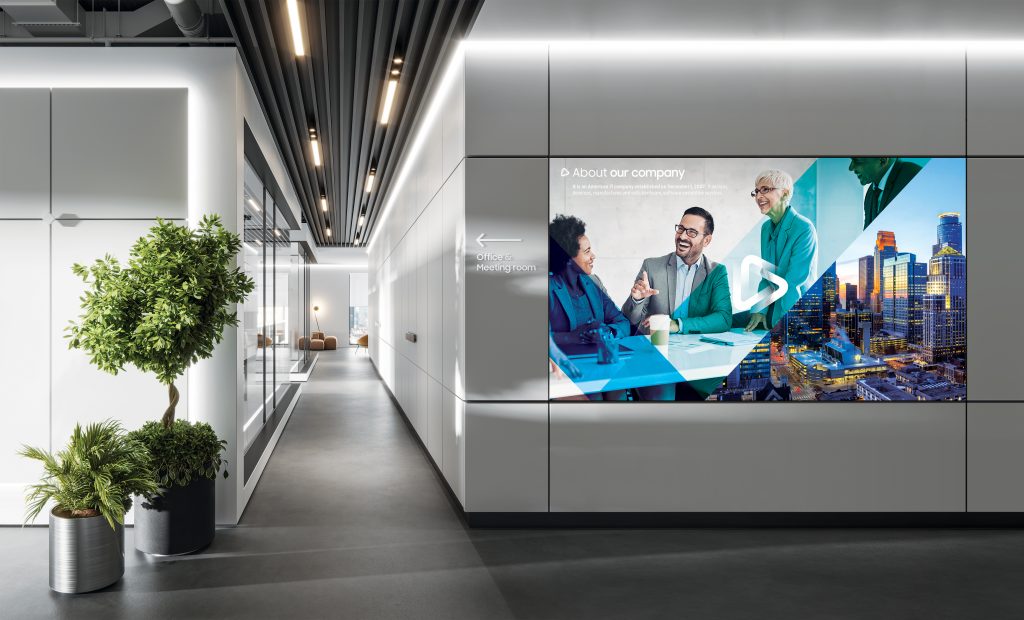 Instalación rápida y eficiente
Una de las características más innovadoras de The Wall all-in-One es su cómoda y rápida instalación. Esta solución elimina las complicaciones tradicionalmente asociadas a las pantallas LED. Las opciones de compra se reducen a dos factores: la resolución y el tamaño, sin complicaciones como la distancia entre píxeles o la configuración. Dispone de una unión preajustada y un kit de marco preensamblado que hace que el proceso de montaje sea extremadamente sencillo. The Wall All-in-One incluye todo lo necesario para empezar a trabajar: soportes de pared, altavoces, marco decorado interno de la pantalla 16:9 y una caja integrada reproductor multimedia S-Box.
The Wall All-in-One ofrece un diseño elegante con una fina pantalla de sólo 49 mm (de 59 mm si se mide desde la pared). Este diseño delgado y sin marcos, proporciona además una conexión de entrada directa en la pantalla sin necesidad de un equipo independiente, por lo que se consigue una configuración más cómoda y limpia.
Tecnología de vanguardia
The Wall All-in-One está equipada con potentes tecnologías que marcan la diferencia.
El procesamiento de 20 bits posibilita un mapeo de color exacto con una precisión impecable. La mayor profundidad de bits en la escala ofrece una relación de contraste extraor­dinaria y unos gradientes tonales suaves y naturales.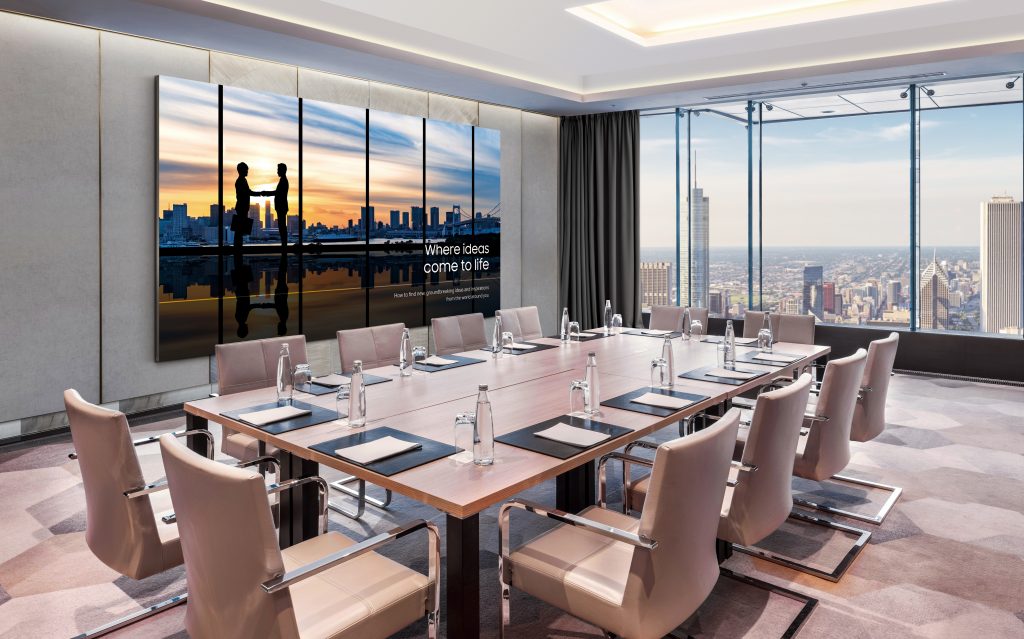 La tecnología única Black Seal crea un negro perfecto, uniforme y protege la pantalla de elementos externos como polvo o luz directa. Del mismo modo, se consigue una escala de grises lineal en cada escena, aportando de forma natural texturas, volumen y matices.
Con Ultra Chroma Technology, se obtienen colores vibrantes fieles a la imagen real. El menor ancho de banda de luz genera una presentación más real de los colores gracias a superior color purity, evitando la mezcla y el degradado.
Perfeccionamiento avanzado
Por otra parte, con Neural Quantum Processor 4K, cada segundo de contenido se analiza y optimiza instantáneamente para obtener una calidad de imagen perfecta. El potente procesador con Inteligencia Artificial (IA) ofrece imágenes superiores en cualquier tamaño hasta una resolución de 4K, mejorando el contraste y eliminando el ruido.
Con MICRO HDR, en cada instalación lograrás un perfeccionamiento avanzado de la imagen -HDR10/10+ y LED HDR- para iluminar los picos de brillo y contraste ideales en cada escena, obteniendo de esta manera imágenes más precisas y reales.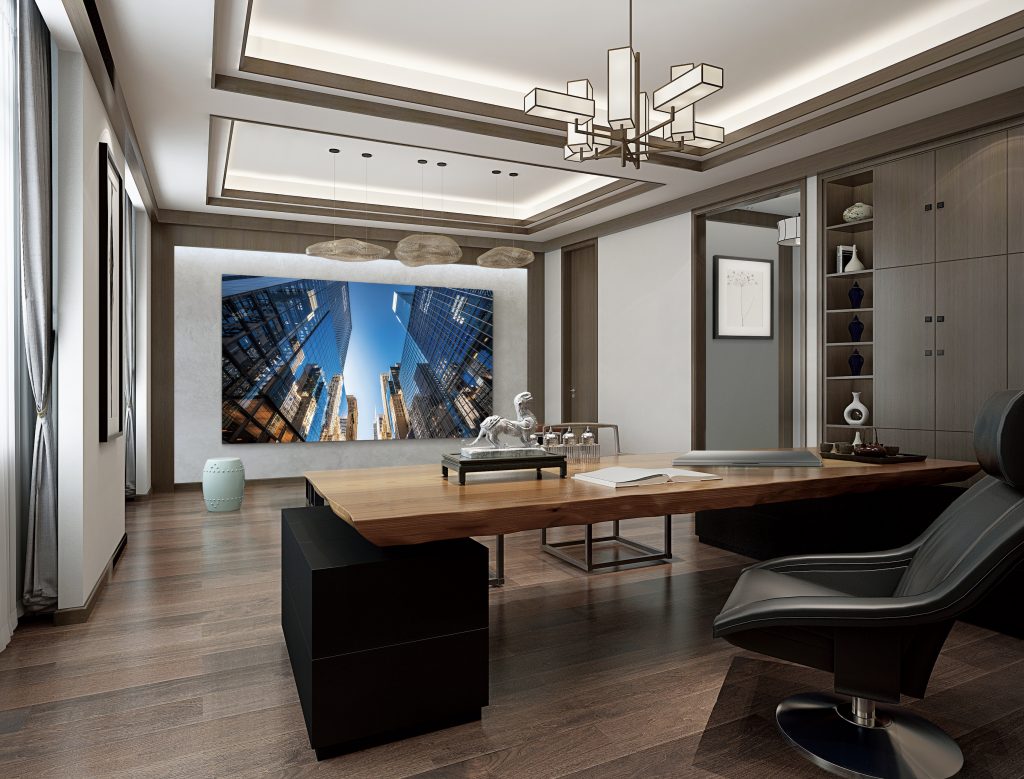 Gracias a MICRO Motion, The Wall All-in-One convierte automáticamente las señales estándar de 60 Hz a 120 Hz, eliminando las vibraciones de movimiento para conseguir transmisiones más fluidas, suaves y continuas. Por último, con el procesador Micro IA, se pueden instalar dos pantallas 4K de 146" una al lado de la otra para crear un formato 32:9 con una función desmontable que crea toda una pared con una excelente calidad de imagen.
The Wall All-in-One de Samsung es la solución perfecta para salas de reuniones y otros entornos empresariales tales como oficinas, despachos de dirección y auditorios.
Las «claves» de The Wall All-in-One
Calidad de imagen
• Mayor contraste y negros más intensos
• Consigue colores más puros, vivos y vibrantes
• Benefíciate de una optimización IA instantánea
• Logra exactitud en el mapeo de colores y en la expresión de la escala de grises
• Refinamiento avanzado de la imagen y rango dinámico
•Consigue imágenes suaves y sin interferencias
Simplicidad y eficiencia
• Dos tamaños y opciones de resolución. Sin complicaciones como distancia entre píxeles o configuración
• Solución todo en uno
Fácil uso, instalación y mantenimiento
• Instalación rápida e integrada
• Configuración automática