Comunicar, sorprender, compartir, colaborar…Las soluciones basadas en pantallas han llegado para quedarse. Su implantación tiene una tendencia alcista que es imparable. Encuentra la pantalla que mejor se adecúa a tu proyecto y aumenta la interacción del usuario.
Una solución inteligente para cada entorno
Las pantallas están en pleno auge. Cada vez se ven en más ciudades, empresas y centros educativos…Escoger la opción que se adapte mejor a las necesidades de cada entorno permitirá alcanzar el nivel de exigencia y profesionalidad para tu proyecto, gracias a la tecnología profesional. Su uso permite aumentar la interacción del usuario que está en un espacio concreto y trasmitirle la información de interés que queremos que le llegue o que realice las acciones que necesite.
Aumenta la interacción del usuario
Una solución todo en uno que ofrece la posibilidad de realizar pedidos y pagos sin contacto. Esta nueva solución es perfecta para cualquier entorno Retail gracias a las diferentes opciones de instalación con las que cuenta. En primer lugar, se puede instalar en un mostrador o mesa dentro de una tienda, sin necesidad de realizar una construcción o instalación adicional. Además, permite la posibilidad de realizar pedidos y pagos sin contacto.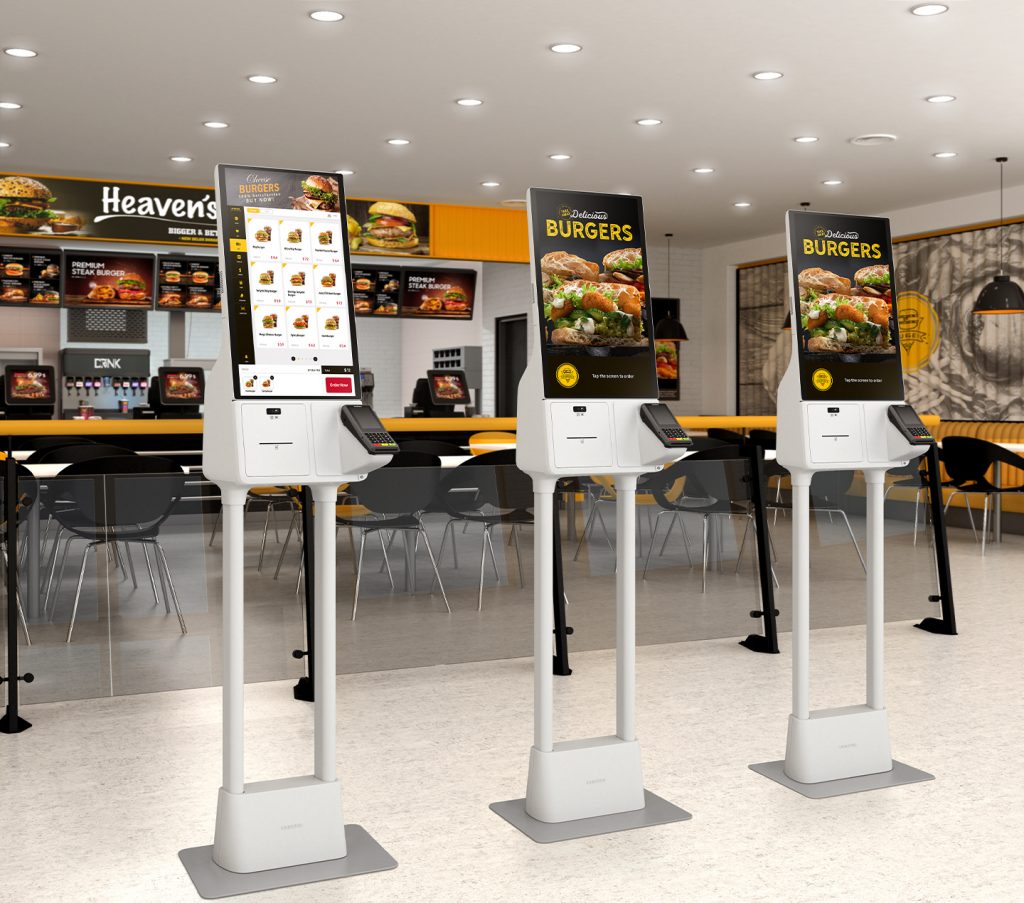 Y es que los Kiosks se han convertido en parte de nuestro día a día. Son intuitivos y permiten con gran sencillez poder comprar producto, por ejemplo, aportando modernidad y eficiencia. Aumenta la interacción del usuario.
Con una pantalla táctil de 24″ y tecnología SoC (System on Chip) de Samsung, este formato elimina la necesidad de un PC externo y ofrece una tecnología potente y de confianza. En un color elegante, esta solución posee un menor consumo de energía si se compara con PCs de uso estándar. Además, el quiosco adopta un diseño modular para proporcionar una variedad de opciones de pago para los principales terminales EMV (Europay, MasterCard, Visa). Además, posee lectores de códigos de barras y códigos QR. También dispone de impresora incorporada y un sistema Wi-Fi. Todo ello garantiza un mayor tiempo de operatividad comercial.
El rotafolio del siglo XXI
Modernizar cualquier sala de reuniones o de conferencias es más fácil que nunca. Olvídate de pizarras tradicionales, rotuladores y los típicos rotafolios. Con Samsung Flip disfruta de la sensación suave y familiar de la escritura tradicional en un versátil formato digital con una variedad de colores, estilos y anchos disponibles. Pueden usarlo hasta 4 personas y escribir simultáneamente, usando cualquier objeto como una herramienta de escritura. Incluye además un puerto HDMI para conectar fácilmente los dispositivos personales. Y es que esta solución aporta una experiencia colaborativa sencilla y totalmente sincronizada. aumenta la interacción del usuario.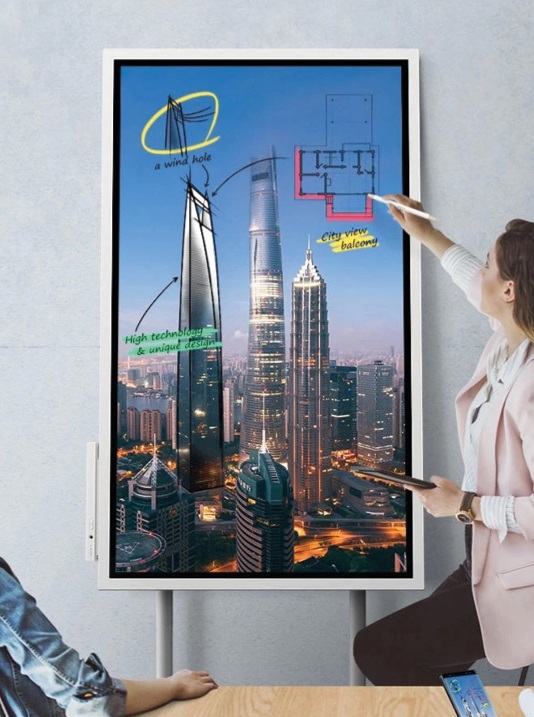 Samsung Flip muestra el contenido en calidad de imagen UHD de alta resolución. Aparte del contenido que vayamos generando nosotros mismos, también podrás compartir vídeos e imágenes que tengas guardados en sistemas de almacenamiento externos, así como en los dispositivos móviles conectados, como smartphones, portátiles o tablets.
Del mismo modo, resulta muy sencillo guardar todo el material que hayamos genrrado durante nuestras presentaciones o reuniones. Lo podemos almacenar en un medio de almacenamiento externo, como una memoria USB o si lo preferimos en un disco duro NAS conectado. ¿Y para compartirlo? Pues muy fácil! Por correo electrónico, en papel o a través de la pantalla.
Y no te preocupes por la seguridad ya que todas las presentaciones que hagas con Samsung Flip podrás protegerlas con una contraseña, evitando accesos no autorizados.
Experimenta la grandeza
The Wall es una generación nueva de tecnología de pantalla que ofrece una experiencia verdaderamente exclusiva. Tiene un contenido visual inigualable y un diseño muy elegante. Gracias a su fabricación a medida, cualquier espacio cobrará protagonismo gracias las imágenes impactantes.

La tecnología especializada Black Seal ofrece niveles de tonos negros puros para un contraste inigualable y detalles inmaculados. También protege la pantalla de los impactos y del polvo, incluso a una distancia.
Por su parte, la tecnología Ultra Chroma produce colores vibrantes, pero sin dejar de ser naturales, para ofrecer una experiencia visual real. Un factor de forma modular permite que el tamaño, la forma y la proporción de The Wall se adapte las necesidades espaciales y estéticas.