El modelo The Wall (IWB) de Samsung para este año es una innovadora pantalla modular Micro LED que ofrece experiencias de visualización envolventes en un formato de gran tamaño y alta resolución.
De última generación
Samsung vuelve a apostar en este 2022 por soluciones innovadoras y vanguardistas con The Wall (IWB) disponible en un tamaño de píxel de 0,94 mm y 0,63 mm, que lo convierte en el modelo más delgado hasta la fecha de la gama. Una pantalla de última generación que fue indudable protagonista en la pasa edición de ISE 2022.
Para ello, IWB muestra la imagen más detallada de Samsung y una expansión del rango dinámico, con velocidad de fotograma de 120Hz en la pantalla, HDR10/10+ y Led HDR.
Dependiendo de su uso, The Wall ofrece una variedad de tamaños de visualización tales como contenidos 4K en 110" y hasta calidad 8K para 220", dando de esta manera respuesta a las necesidades del mercado.
Esta capacidad de resolución viene reforzada gracias al potente procesador Micro AI (con tecnología de inteligencia artificial). Así, es capaz de analizar cada segundo del contenido de manera instantánea, optimizando la calidad de la imagen mientras elimina el ruido.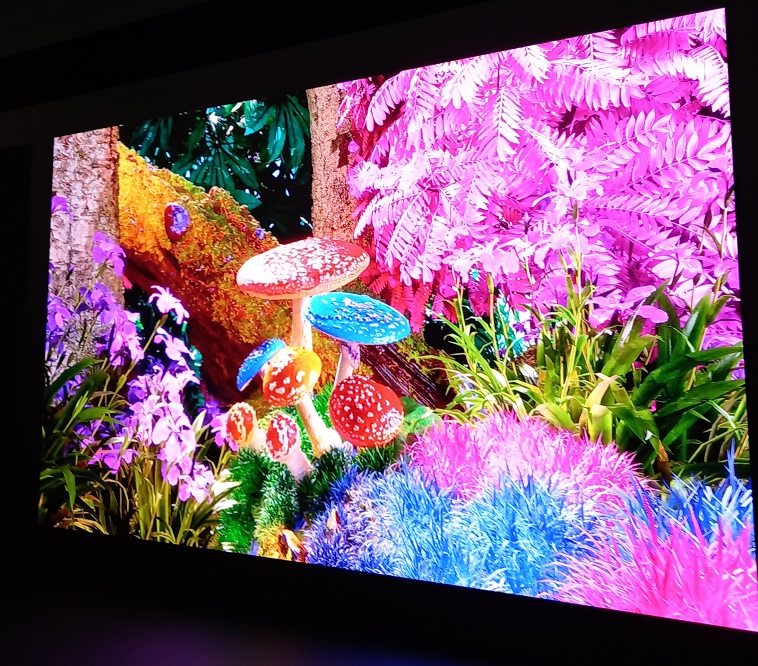 El tamaño total de los módulos se ha incrementado, lo que permite instalar sólo cuatro módulos para configurar la pantalla UHD, con un funcionamiento más rápido y rentable.
Visualización inmersiva
Este módulo mejorado refuerza la alta resolución y la calidad mecánica de las pantallas para proporcionar una visualización inmersiva, al mismo tiempo que hace más preciso el ajuste de las uniones. De esta manera, el tiempo de instalación se reduce en comparación con la señalización LED convencional.
The Wall incluye tecnología avanzada, como Multi View que permite la reproducción simultánea de hasta cuatro fuentes en una sola pantalla. Todo ello, sin necesidad de ningún divisor adicional para la visualización de contenidos dinámicos.
Además, con la tecnología Black Seal integrada en la pantalla, se crea un lienzo sin fisuras para obtener niveles de negro más puros, con una película de reflexión ultra baja con la que se reduce el reflejo de la luz externa. De esta manera y gracias al procesamiento de 20 bits, The Wall ofrece una calidad de imagen óptima y una experiencia de visualización fluida con un brillo de 2.000 nits.