La gama de monitores Samsung destaca por su gran calidad de imagen (Full HD y UHD) y por un diseño único, convirtiéndose en la mejor opción tanto para hogares como empresas.
El modelo U28D590D es un monitor Ultra High Definition (UHD) que ofrece una extraordinaria calidad de imagen con una nitidez superior y unos colores increíblemente realistas. Con su resolución UHD es capaz de reproducir imágenes de gran realismo y su gama de color 10-bit le permite mostrar 1 billón de colores en pantalla.
Por su parte, los monitores Serie 5 cuentan con un diseño moderno y minimalista gracias a su delgado marco prácticamente invisible, mientras que los elegantes Serie 3 reintroducen el diseño Samsung ToC (Touch of Color) marca de la casa, renovándolo con un tono azul puro a lo largo de todo el marco.
Todos ellos destacan por ofrecer tanto a los consumidores como a las empresas lo último en tecnología de monitores, con un diseño exclusivo y minimalista.
U28D590D: Diseño y tecnología UHD
Los consumidores ahora tienen la posibilidad de llevar a sus hogares la tecnología líder UHD 4K de Samsung con el monitor U28D590D de 28 pulgadas, que ofrece cuatro veces más la resolución de las pantallas Full HD. Su ágil panel TN ofrece un tiempo de respuesta de sólo 1 milisegundo, mostrando videojuegos y películas perfectamente sin ningún desenfoque de movimiento o pérdida de fluidez, para lograr una experiencia visual sin precedentes. Este modelo ofrece una calidad de color inigualable, ya que es capaz de mostrar un billón de colores (Color 10-bit), 64 veces más colores que un monitor estándar. Además, incluye la tecnología UHD Upscale, que permite reescalar contenidos FullHD a UHD, mejorando la nitidez de contenidos como películas en BluRay, o la señal de video de las consolas de videojuegos de nueva generación.
El monitor U28D590D ofrece la avanzada tecnología multitarea, con la función Samsung Picture in Picture (PIP) 2.0, que puede mostrar en una ventana superpuesta fuentes con resolución FullHD, y Picture by Picture (PBP), que permite conectar dos ordenadores al monitor y trabajar con ambos simultáneamente partiéndose la pantalla en dos. La nueva función Game Mode es un preset que convierte de forma inmediata una imagen oscura y borrosa en brillante y clara, permitiendo mejorar manera rápida la calidad de imagen en videojuegos. El monitor incorpora una entrada DisplayPort, que garantiza el óptimo funcionamiento a 60Hz en UHD, y dos entradas HDMI 1.4 para conectar el ordenador y una gran variedad de dispositivos multimedia.
Monitores Serie 5: S24D590PL y S27D590P
El diseño minimalista de los monitores Serie 5 de 23.6 y 27 pulgadas cuenta con un marco ultrafino y un moderno y sofisticado soporte en forma de T, con un acabado en aluminio que da la sensación de que el monitor está flotando en el aire.
Los monitores Serie 5 ofrecen una calidad de imagen superior gracias a sus paneles PLS de Samsung, que mejoran la experiencia visual con contraste y colores naturales desde cualquier punto de vista, ofreciendo un ángulo de visión de 178 grados y un consumo menor que los IPS equivalentes. La Serie 5 además incluye la función Game Mode y ofrecen dos entradas HDMI y una VGA.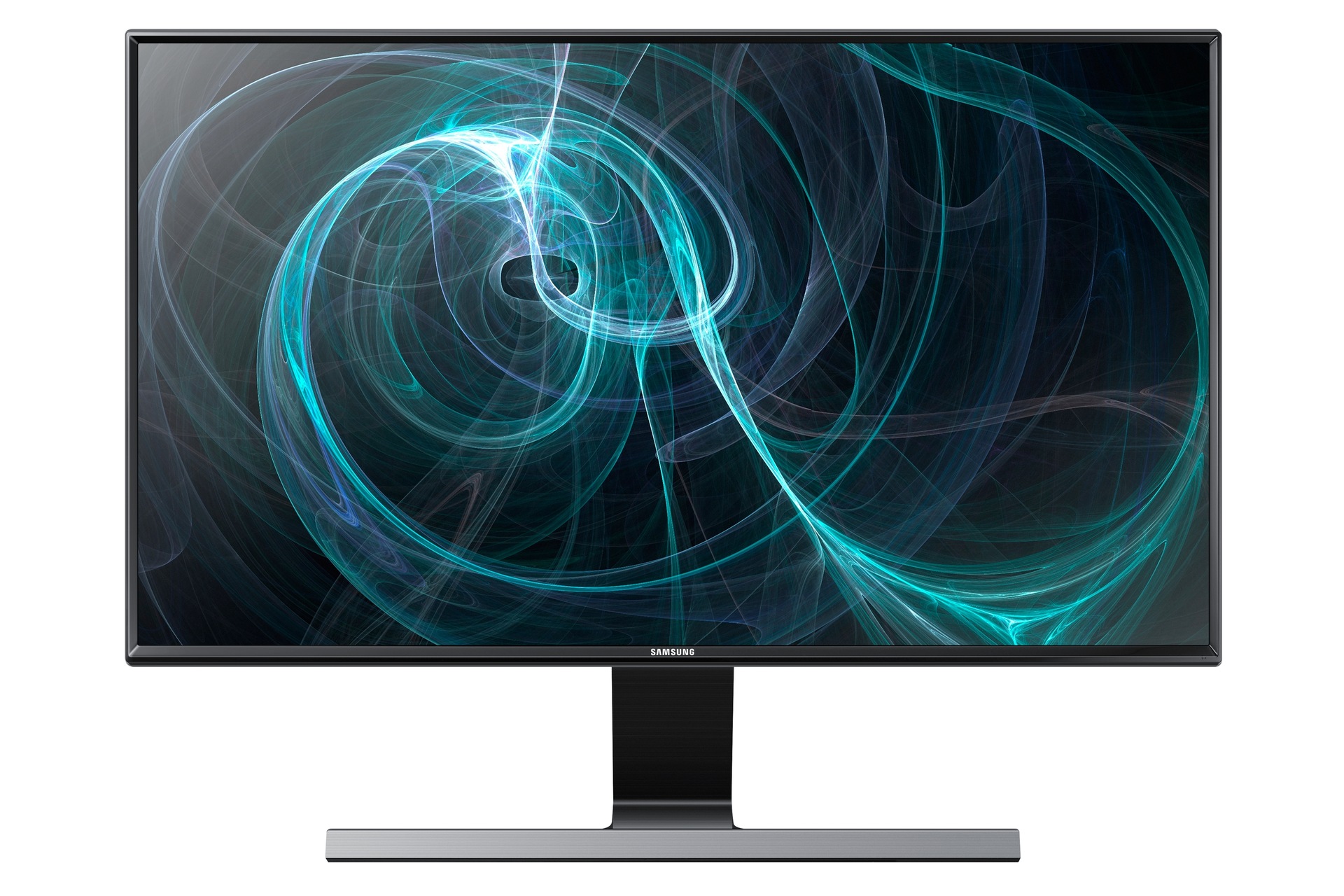 Monitores Serie 3: S22D390H, S24D390HL, S24D391HL y S27D390H
Con el renovado diseño Touch of Color, los monitores de 21.5, 23.6 y 27 pulgadas SD390 (negro) y el 23.6" SD391 (blanco) destacan dentro de cualquier espacio. El estrecho marco destaca con un sutil toque azul transparente, creando un elegante brillo natural en el monitor. Al mismo tiempo, el fino y elegante cuerpo con el cuello de cristal azul transparente, crea en el monitor un look sofisticado y de buen gusto. Los monitores además ofrecen paneles Samsung PLS con ángulo de visión de 178º (en 23.6" y 27"), la nueva función Game Mode y entradas HDMI y VGA.