Ya Disponibles en MCR
Las memorias Kingston HyperX Fury están disponibles desde hoy mismo en MCR.
Encuéntralas Aquí
.
---
Las nuevas HyperX FURY ofrecen overcloking automático
 Nuevo disipador asimétrico con diseño agresivo
 La gama de entrada FURY incluirá también discos de estado solido (SSD)
---
HyperX®, una división de Kingston Technology Company, Inc., el líder mundial independiente de productos de memoria, ha anunciado hoy el lanzamiento de HyperX FURY, una memoria diseñada para los aficionados a los videojuegos. De esta forma HyperX FURY reemplaza a la gama de memorias HyperX blu. La nueva generación de memorias de alto rendimiento ofrece overcloking automático, con un disipador asimétrico de diseño agresivo para disfrutar de la mejor experiencia posible en relación calidad precio.
La memoria HyperX FURY es plug and play (PnP) lo que permite acelerar automáticamente la velocidad del sistema sin necesidad de modificaciones manuales en la BIOS. El nuevo diseño del disipador viene en cuatro colores (azul, negro, rojo y blanco) e incluye el PCB en negro. Todo ello para permitir a los jugadores, modders e integradores de sistemas disponer del color que vaya más acorde con sus sistema. HyperX FURY está disponible en las frecuencias 1333MHz, 1600MHz y 1866MHz.
A la gama HyperX FURY pronto se le unirá HyperX SSD FURY, diseñado también para los jugadores ocasionales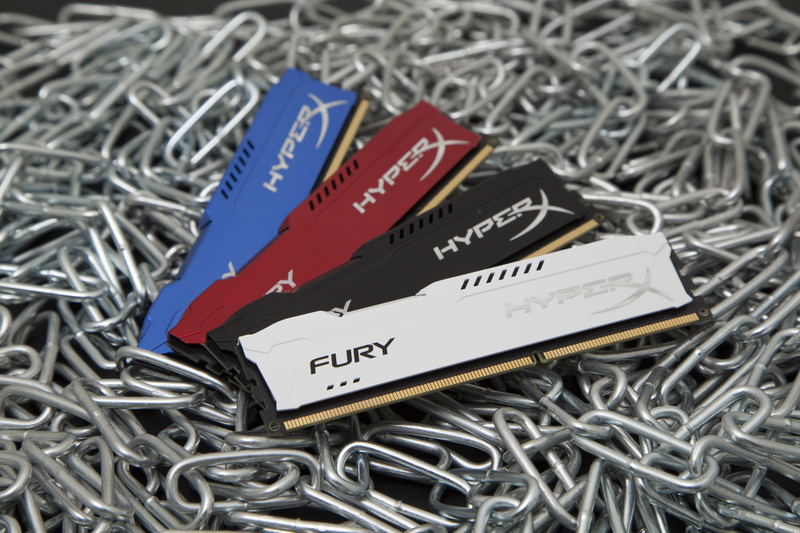 y entusiastas que quieran acelerar sus videojuegos. El nuevo HyperX SSD FURY permitirá a los PCs y a las aplicaciones una carga más rápida y una mejora de la capacidad de respuesta global del sistema.
"Estamos muy contentos de poder ofrecer nuestra nueva incorporación a la familia HyperX DRAM a los entusiastas y aficionados que desean maximizar su experiencia de usuario en videojuegos«, comenta Jordi García, responsable de Kingston Technology Iberia. «Sin duda HyperX FURY es un gran producto para los que buscan actualizar su sistema de gaming a un precio muy asequible".
HyperX es la división de productos de alto rendimiento de Kingston Technology que abarca memorias de alta velocidad DDR3, SSDs, unidades flash USB y auriculares. Dirigido a jugadores, overclockers y entusiastas, HyperX es conocido en todo el mundo por su calidad, rendimiento e innovación. HyperX está comprometido con los eSports, patrocina más de 20 equipos en todo el mundo y es el principal patrocinador del Intel Extreme Masters. HyperX tiene presencia en gran cantidad de eventos, incluyendo Brasil Game Show, China Joy, DreamHack, gamescom y PAX.
Encuéntralas en MCR
---
---
Características y especificaciones de la memoria HyperX FURY:
 PnP: el sistema Plug and Play acelera automáticamente la memoria hasta las especificaciones máximas del sistema.
Capacidades: 4GB, 8GB, 8GB kit, 16GB kit.
Frecuencia: 1333Mhz, 1600Mhz, 1866Mhz
Latencia.: 9, 10
Voltaje: 1.5 V
Disipador: estilizado y agresivo en colores azul/negro/rojo/blanco
PCB: Negro
Fiabilidad: 100% testeado
 Garantía: garantía de por vida
---
Ya Disponibles en MCR
Las memorias Kingston HyperX Fury están disponibles desde hoy mismo en MCR.
Encuéntralas Aquí
.