La placa base  de la serie Super Alloy X99 de ASRock. Los tan esperados engranajes x99 basados ​​en la arquitectura Haswell-E ya estan aqui, incluyendo la prestigiosa Serie Extreme, los más buscados Fatal1ty Killer Series and crazy Nick Shih's Overclocking Series.
Para identificar las placas base emblemáticas entre las tres líneas de productos, que sería X99 Extreme6, X99 OC Formula and Fatal1ty X99 Professional.
Las Placas base de gama alta X99 OC Formula y Fatal1ty X99 Professional,  dos placas base cuentan con la friolera de 12 Power Phase Design with 24 Dual-N MOSFET, que puede alcanzar hasta 1300W! Además, dos tarjetas están equipadas con tomas dual M.2, una ranura Ultra M.2 PCIe Gen3 x4 para experimentar el rendimiento más rápido M.2 PCIe Gen2 x4 & SATA3 socket  para los usuarios que quierendual M.2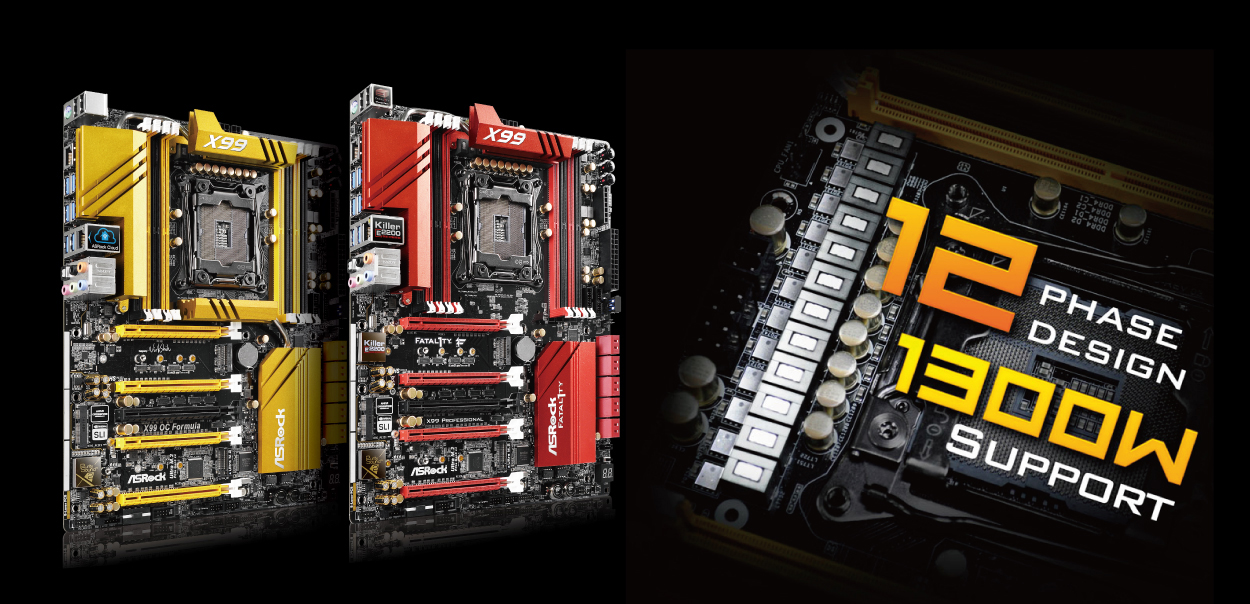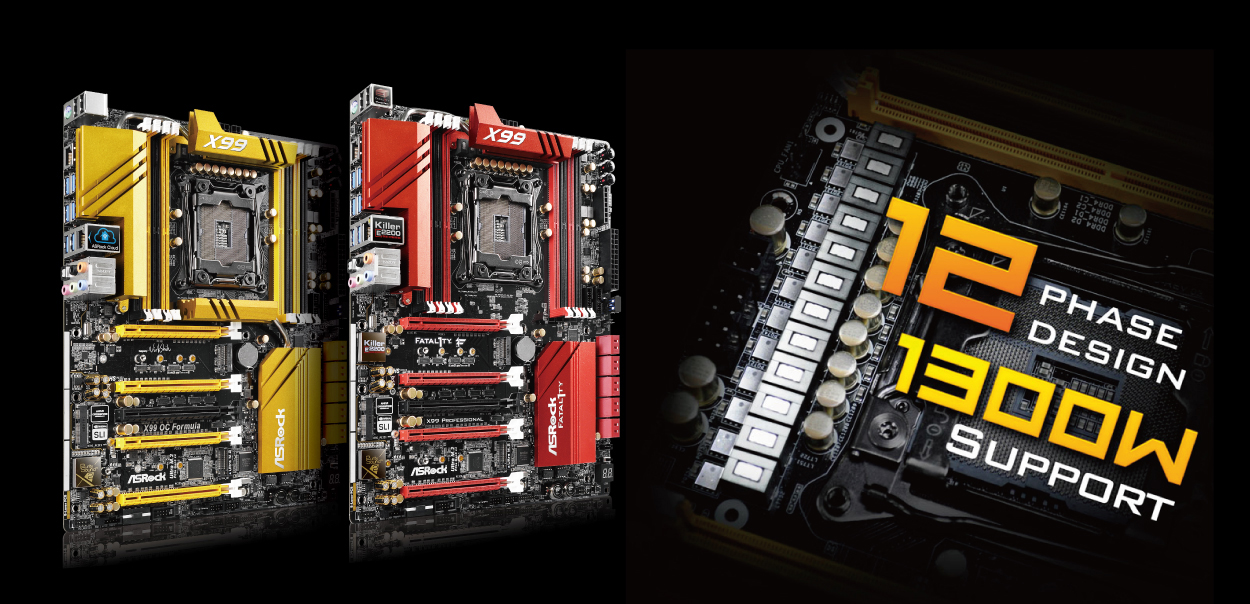 X99 Series Motherboards Powered with ASRock's Super Alloy
Las prestigiosas placas base de la serie Extreme destacarán por su  innovadora colección de características basadas en la roca sólida de Super aleación de ASRock. Las características incluyen la mejorada XXL Aluminum Alloy Heat Sink  de gran disipación de calor, Ultra Dual-N MOSFET (UDN), que ofrece una potencia Vcore de suministro más eficiente con bajo RDS (on), Premium 60A Power Choke que ofrece 3 veces mejor rendimiento, Premium Memory Alloy Choke and 12K Platinum Capacitor condensador para garantizar un rendimiento estable y una vida útil más larga – 12.000 horas.
Además de las placas base mencionados, la mayoría de las ASRock X99 adoptan el diseño 12 power phase  para la entrega de potencia con la temperatura más baja, por lo que los usuarios pueden hacer overclock y exprimir hasta la última gota de rendimiento sin esfuerzo. Por otra parte, ASRock ha creado 10 nuevas basadas ​​en el chipset X99 que están equipados con conector Thunderbolt AIC, apoyando el Thunderbolt™ 2 technology. Las nuevas placas base son totalmente compatibles con la tecnología de memoria DDR4 Quad-Channel ECC* y UDIMM/RDIMM,  hasta 128 GB. La próxima generación de Ultra M.2 no sólo ofrece más rápida PCIe Gen3 x4 32Gb/s speed , sino también en condiciones de adoptar dispositivos SATA3 6Gb/s interfaz M.2. Además, ASRock Cloud Service ofrece 1 año de USD $ 49.99 GRATIS suscripción profesional Orbweb.ME, haciendo que sus dispositivos móviles para conectarse a la PC en cualquier momento y en cualquier lugar.
*ECC is supported with Intel Xeon processors.


The Ultimate Server-Grade Motherboard : X99 WS
ASRock también se complace en lanzar su todoterreno en servidor X99 placa base llamado X99 WS. Esta placa base está equipada con Diseño servidor-Grado de energía (Todo Switching), un conjunto de transferencia de tensión de 3,3 V a 1,5 V, el otro para 3.3V a 1.8V, conseguir una mejora de la eficiencia energética en comparación con el diseño lineal. Diseño ultra delgado permite chasis de 1U. La parte posterior de la placa base está todo montado con tornillos ultra cortos y la duración de la CPU placa trasera es de menos de 3 mm. Y el Intel Dual LAN (I217LM y I210AT) controladores de red Gigabit de bajo consumo compatible con sistemas operativos de servidor de Windows y se puede utilizar para las configuraciones del sistema de estación de trabajo y servidor. Los usuarios también pueden disfrutar de la PCIe Gen3 completamente velocidad 4-Way SLI / CrossFireX en modo / x8 / x8 / x8 x8. Si desea la máxima potencia y rendimiento sólido como una roca, usted debe mirar más allá de esta X99 WS.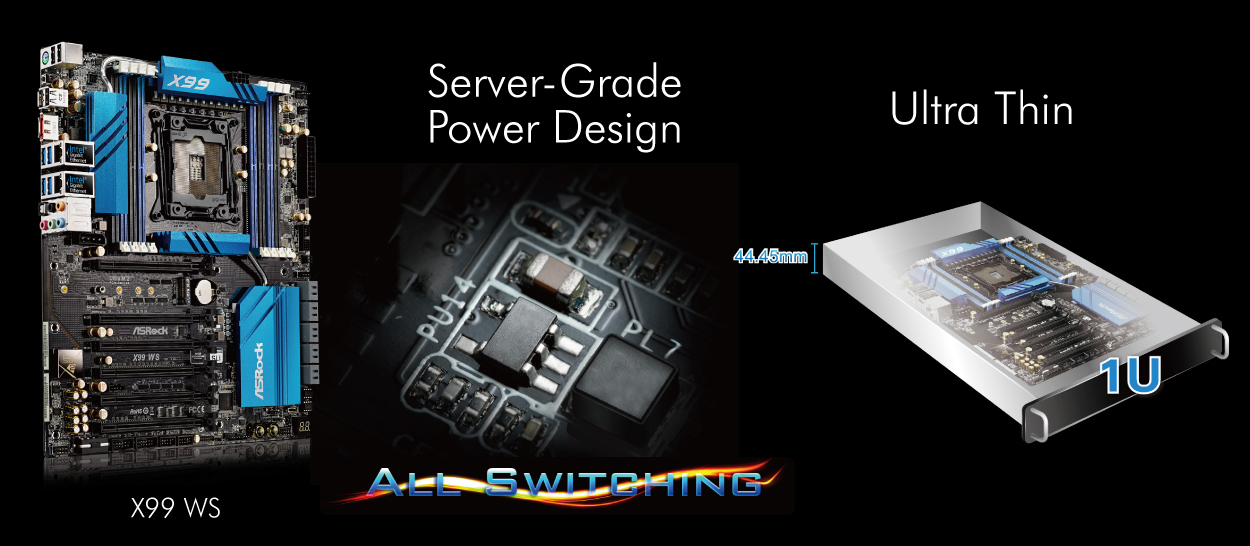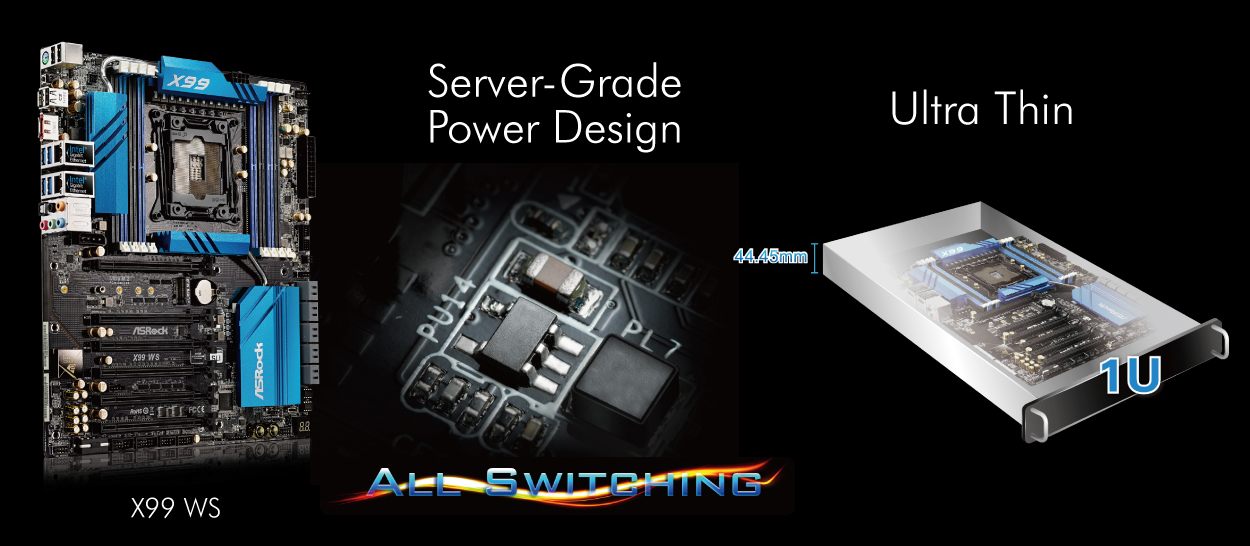 No Lag, Just Frag! Fatal1ty / Killer X99 Series Released
Como de costumbre, una placa madre impresionante dedicado para el juego merece ASRock Fatal1ty y Killer Placas satisface la mayor parte de los deseos y necesidades de los jugadores. Al mismo tiempo, la placa base utiliza Killer LAN chip de la creación de redes, jugar sin retardo, sólo frag!
Las placas base de la serie Fatal1tytienen numerosas ventajas  con el juego Armor, diseñado para mejorar el rendimiento y la estabilidad del sistema al jugar. También hay toda Pureza Sound ™ 2 onboard solución de sonido y Nichicon 12K Fine Gold Audio Condensadores tan esperado para los oídos más quisquillosos, y lo último teclado y ratón la utilidadKey Master. Sin olvidar XSplit Broadcaster & Gamecaster, estamos regalando el USD $ 24.95 tres licencias premium mes GRATIS de nuevo con el / la Serie Fatal1ty Killer!
Nick Shih's Crazy X99 Overclocking Series Was Born To Be Fast!
La mejor arma X99 OC Formula Overclockers. Placas base de la serie Overclocking rápido y furioso de Nick Shih llevan yellow y black speedsuit, además de una capa invisible de Conformal Coating. Protege las placas base de líquidos conductores, el polvo, la corrosión y las temperaturas extremas. Esta placa overclocking-top de la gama, está equipado con un increíble 12 Power Phase Design with 24 Dual-N MOSFETs, que puede alcanzar una increíble apoyo 1300W! Con DDR4 velocidad de memoria increíble 3400 + (OC), nuevo Power Kit, Kit de refrigeración, Kit Conector y Kit de monitor, overclocking extremo se hace más fácil para los novatos y sin embargo más difícil para los veteranos.